It's a once in a lifetime occasion. Not only for the queen, but for the entire population of Great Britain. Queen Elizabeth II's Diamond Jubilee. Only one other modern Royal has ever reached this year of Reign - Queen Victoria. By far, the longest ruling British Monarch in History. But our modern day Queen might as well rule longer than even this Queen of the Past. While Queen Victoria was too sick to even leave her carriage for the extensive Diamond Jubilee celebrations, Queen Elizabeth II has shown herself as a very healthy figure - able to last for a long while yet.
For the highlight of the Jubilee, a fleet of more than 1,000 barges floated down the Thames River. With the men dresses in favorite Uniforms, the women wore complimenting dresses and statement-making fascinator hats. Catherine (see below)
wore a striking red Alexander McQueen dress with matching hat by Sylvia Fletcher from James Lock and Co. Camilla, Duchess of Cornwall, chose an
Anna Valentine dress and Philip Treacy hat.
The Queen, as the centerpiece of the occasion, had on a dress that had been prepared the past year.
She wore a silver and white dress and matching coat, which had been planned by Angela Kelly and made by her in-house Buckingham Palace team. Its color scheme was chosen, the palace said, in order to stand out against the regal red, gold and purple shades of the royal barge.
For the last day of the Celebrations, the royals wore just a bit more casual, but still reflecting the occasion, attire. The men dressed in morning suits and top hats and the women dressed, again, in statement making hats and dresses. The Duchess of Cambridge was again dressed in an Alexander McQueen dress, only a dusty pink color.
Greeting Crowds on the balcony at Buckingham Palace. From left to right: Duchess of Cornwall, Prince Charles, Queen Elizabeth II, Duke of Cornwall, Duchess of Cornwall, Prince Harry.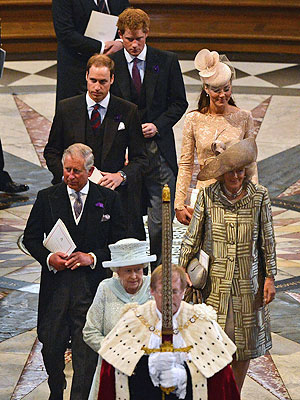 Leaving the Church service to mark the Queen's Jubilee on Thursday.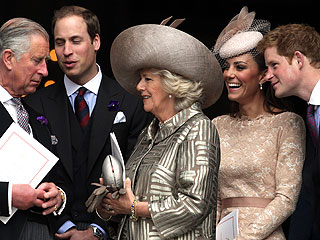 Enjoying a laugh after the Jubilee Church Service.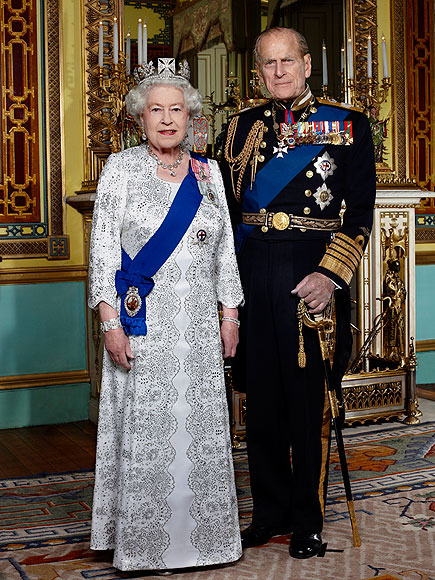 The Official Portrait of Queen Elizabeth II and Prince Phillip For The Diamond Jubilee.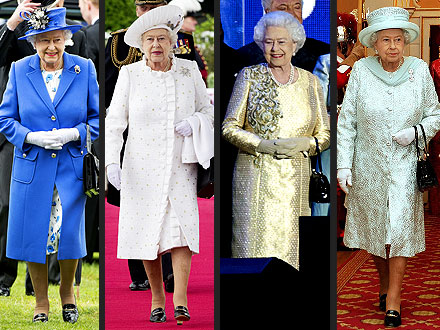 First photograph -Queen Elizabeth II at the Epsom Derby escorted by Princess Beatrice and Princess Eugene to launch the celebrations.
Second photograph - on her way to the procession of boats that were to carry her and the Royal family in a seven mile procession down the Thames River.
Third Photograph -The third day of the Diamond Jubilee celebrations. At the Jubilee Pop Concert. A performance showcasing music written during the sixty years of her long-winding reign.
Fourth Photograph -On the last day of the celebrations, in which she attended a Church Service and made an appearance on the Buckingham Palace Balcony to greet the hordes of people below.